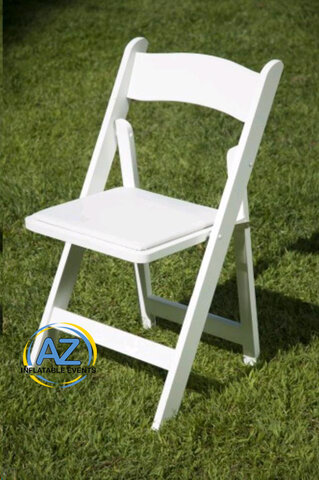 White Resin Folding Chairs w/ padded seats
White Resin Folding Chair rentals are great for weddings and nice indoor or outdoor parties. White Resin Folding Chairs with Padded seats are the classic chair rental for weddings.
AZ Inflatable Events rents multiple styles of chairs:
White Bistro Chair Rental
AZ Inflatable Events is not just about inflatables, we are a full-service party rental company. We rent quality tent rentals, table rentals, chair rentals, and linen rentals for all size events. We truly care about the success of your event so call today to speak with our event specialist.
Click here for our Disclaimer and FAQ's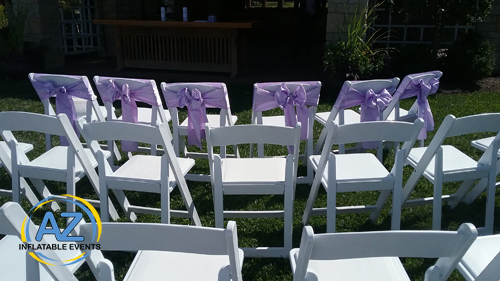 Peak season pricing is available upon the date selected. Simply click the orange "Check Availability" to see if your date has a peak season price.
Out-of-delivery area pricing is available upon request.
Additional fees will be shown on the final screen. Some additional fees that may be added are taxes, delivery, and surface fees for surfaces other than grass (for example concrete or landscape rock)
Non-Residential orders are required to be placed through the office, do not continue to make the order.