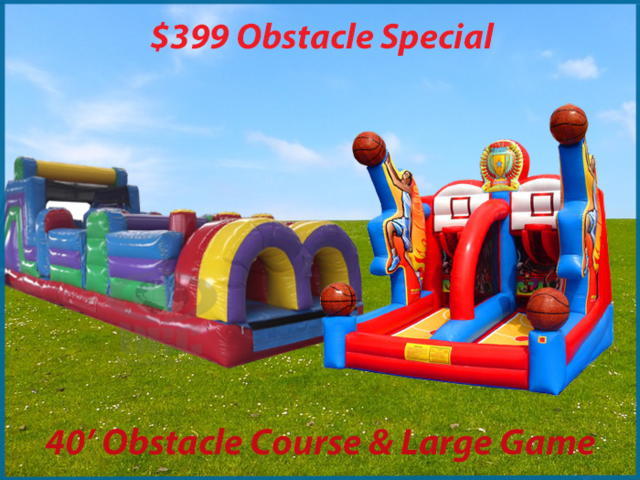 Ultimate Fun Package
The ultimate fun package includes the large 40' obstacle course and your choice of a deluxe inflatable game. UPGRADE your obstacle course, choose an upgraded obstacle course from the list (additional fee will apply). The package is for RESIDENTIAL only. No Coupons Can Be Used On This Special. Please do not add this if you are planning on having your party at a park, church, corporate location, etc.
Step 1: Click Check Availability (orange button)
Step 2: Click Choose Date (orange button) Step 3: Choose the date from the calendar
Step 4: Choose the start time from the drop-down menu - Choose 10:00-6:00 for all day or you can choose any 5-hour block of your choice.
Step 5: Choose the End Time from the drop-down menu
Step 6: Choose any inflatable from the list (upgraded items do have an additional charge)
Step 7: Click submit and follow the checkout!
IF YOU HAVE ANY ISSUES PLEASE CALL THE OFFICE