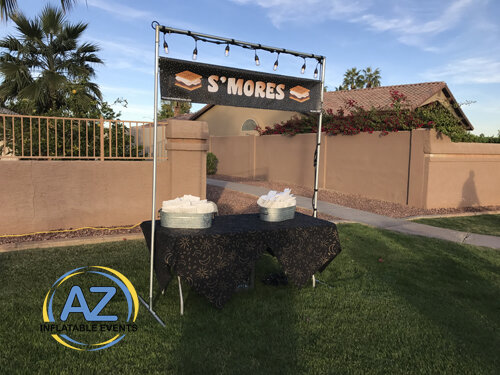 Smores Booth
Actual Size: 15'Lx10'Wx5'H




Who wants S'mores? AZ Inflatable Events provides your guest with the unique experience of making their own s'mores at your location. Do you remember sitting around the campfire making S'mores as a child, remember the fun? Rent just the booth or add on our full-service options. Full service includes the S'mores themed booth, chocolate, graham crackers, marsh mellows, sticks, and roasting stations. Each guest will get a S'mores kit and stick them go over to the roasting station and roast their own marshmallow. When your guest is satisfied with their marshmallow they built the S'more and get to enjoy dessert under the stars!
S`mores Booth Pricing:
$149 When added to a concession machine or inflatable rental
$199 A la carte
$129 Client Pick up at the showroom
Add an additional roasting station for $39
Full-Service options available upon request
What is included in the S`mores Booth Rental:
Decorative S`mores Banner
Frame to hold the banner
2 - 6' Table (one for the booth and one for the roasting station)
2 - Table Linens
2 - roasting station includes 2 burners each
Light Kit (requires power/power not included)
What is REQUIRED by the client:
Power for the light kit
Adult Supervision for the the booth set up and the roasting area
What is RECOMMENDED to be provided by the client:
Fire extinguisher (anytime you haven an open flame you should have a fire extinguisher)
Trash can near by
Metal Container with sand or rocks for the hot sticks to be placed in
Call AZ Inflatable Events today to reserve your s`mores booth!
*Items may vary from picture