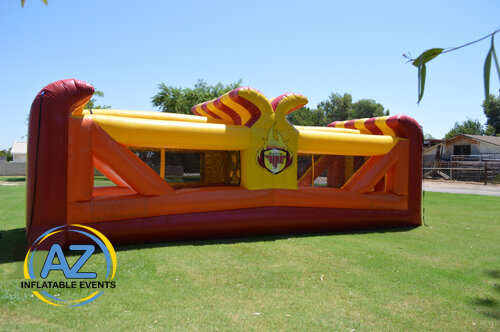 Rapid Fire Challenge
Actual Size: 32'Lx10'Wx10'H
Setup Area: 36'Lx16'Wx12'H
Outlets: 1
Age Group: 5 - Adult
Attendants: 1 - 2




The Rapid Fire inflatable challenge game is one of the new hottest, high energy, interactive game. This inflatable game is designed for four players (teams of two) and is a "MUST SEE", especially if you're looking for something new for teenagers. Object: Teams of two (with teammates kitty-corner from each other facing their opponent) start with (4) balls in each lane of the inflatable bungee style game. When the game begins, each player is in a mad dash to pass their balls through the holes in the netting in front of them which separates them from their opponent. At the conclusion, the team with the least amount of balls in their lane wins! The zany catch to this inflatable bungee game is that each player is wearing a harness that is attached to a bungee cord which is attached to the opponent next to them! Strategy: Players must get all their balls to their opponent's side first. The holes in the netting are slightly larger than the balls, thus allowing the players to toss them through the hole or run them up to the netting and pass them through one of the three holes. The base of the inflatable Rapid Fire game is slightly raised to the center, causing the players to run uphill and the balls to roll back to the starting wall. Players must start with one ball in hand at the start of the game and come back to the starting wall each time to pull the next ball out of the bag and run it up to pass the ball through the various holes. The Kicker: Opponents of the same side of the game are attached to the same bungee cord making the game a constant tug-of-war against your opponent, hence stopping them from running forward and you defending your team from the other team scoring! Other interesting bungee style inflatable interactives:
Click here for our Disclaimer and FAQ's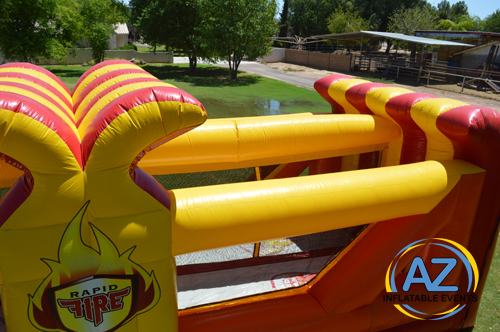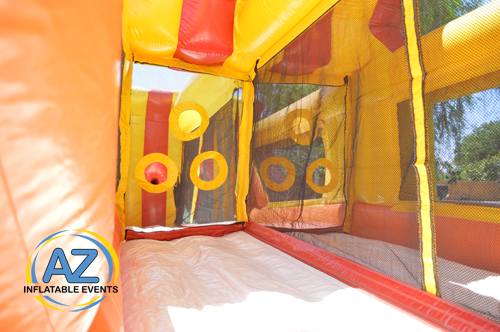 Important information you need to know before ordering!
The prices shown are based on a 5-hour rental at a residential location with a grass set up during non-peak days within our delivery area.
Peak season pricing is available upon the date selected. Simply click the orange "Check Availability" to see if your date has a peak season price.
Out-of-delivery area pricing is available upon request.
Additional fees will be shown on the final screen. Some additional fees that may be added are taxes, delivery, and surface fees for surfaces other than grass (for example concrete or landscape rock)
Non-Residential orders are required to be placed through the office, do not continue to make the order.