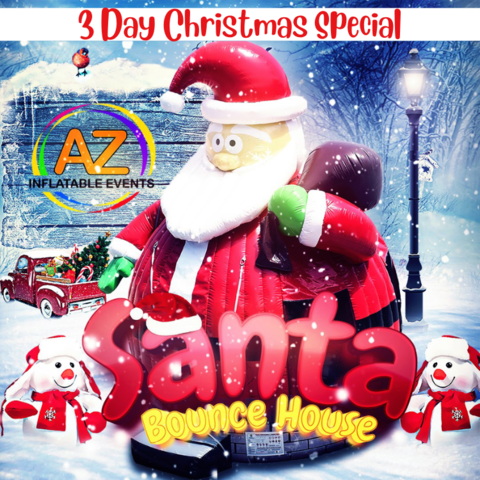 🎄 Christmas Special
Christmas Day special
•Your choice of a bounce house, bounce house with a slide combo, obstacle course, or interactive item for 3 days.
•The inflatable will be delivered on the 24th by 3:00 pm and picked up on the 26th after 9:00 am.
•The package is for RESIDENTIAL only. Please do not add this if you are planning on having your party at a park, church, corporate location, etc. No Coupons Can Be Used On This Special.

Step 1: Click the orange button the check availability
Step 2: Click the orange button AGAIN to choose your date
Step 3: Choose December 24th, 2022
Step 4: From the drop-down list choose the item that you would like, the price for this item will be located on the same line.
Step 5: Once you choose the item scroll to the bottom and click Submit
Step 6: Fill out the reservation information, sign the contract, pay the deposit and click submit.
Any questions or issues please call the office at 480-854-1857